Share feedback
Thanks for sharing your feedback!
To record what florals you are seeing in the field, simply add them in the observations field of any job card. Simply select the floral you have seen, and what percentage open you think that floral is. To select additional floral sources, simply select "Add Floral Sourse", then select the appropriate floral. You can add as many florals as you like/need.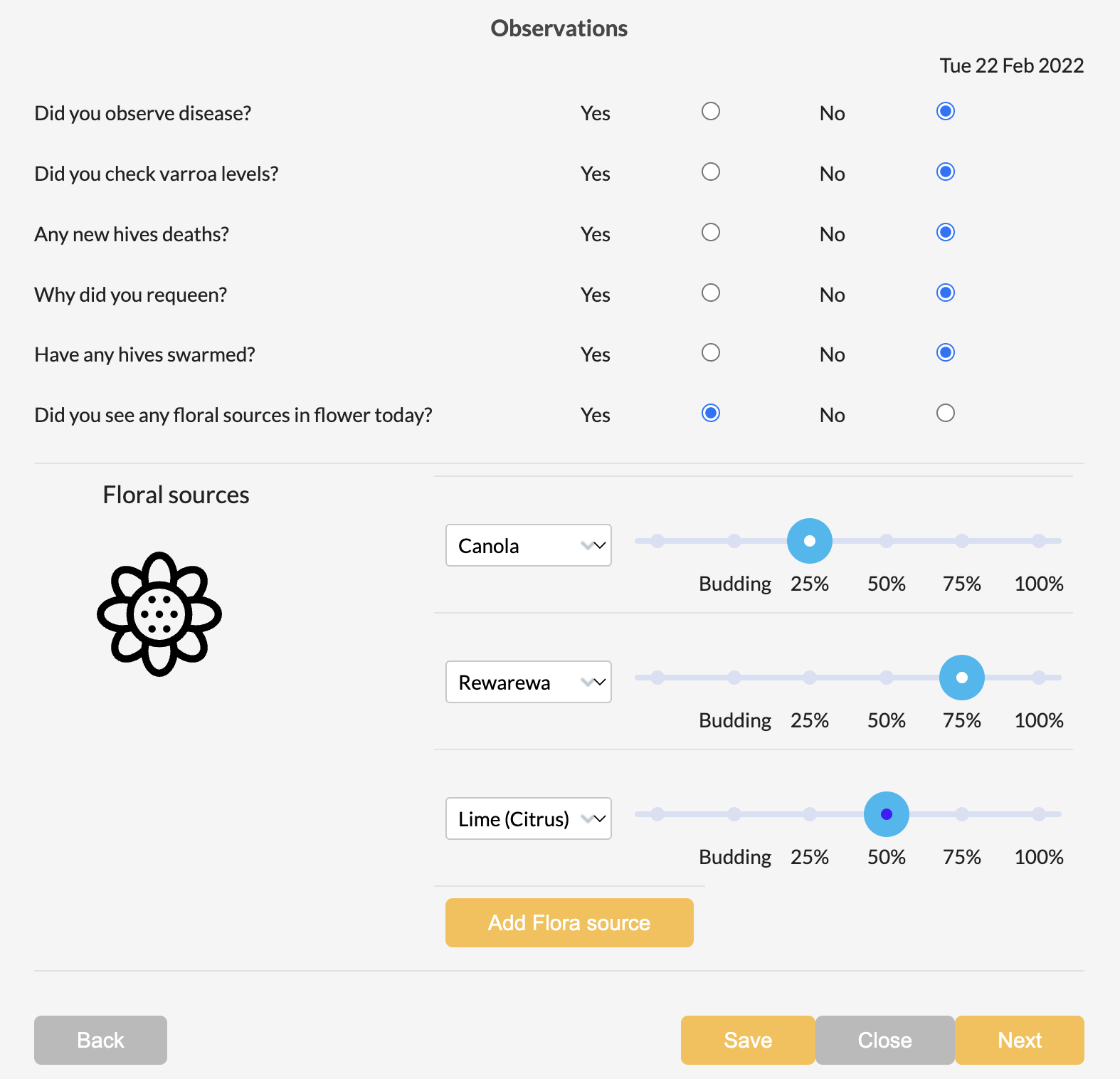 Floral sources can be customized. to do so follow the instructions below. (inorder to edit florals, you must be logged in as the account owner.)
Navigate to the Subscription tab. (Shown on the top bar)
Navigate to the Settings tab. (Shown on the site bar once step 1 is complete)
Scroll to the bottom of that page and you will see the "Add Floral Source" title.
Now you are in the Floral settings area. from here use the add function to add additional florals. Below this option, you are able to move florals from the left (florals not shown in your job cards) to the left (florals shown in your account.) using this function you can show only florals you want to record. this keeps the list shorter and easier to manage.
Below are the Default options for Floral sources. If you are having any issues, please contact Support at Support@myapiary.com
| | | | |
| --- | --- | --- | --- |
| Almond | Diversifolia (Stony Mallee) | Mango | Red Gum |
| Apple | Dumosa (Eucalyptus) | Mangrove | Red Stringy Bark |
| Apricot | Dumosa (White Mallee) | Manuka | Rewarewa |
| Avocado | Egg plant Seed | Melaleuca | River Red Gum |
| Black Mallee | Flax | Messmate | Rockmelon (Cucumis melo reticulatus) |
| Blackberries (Bramble) | Gorse | Molloy Red Box | Rose Gum |
| Blue Gum | Gracilis (Eucalyptus) | Moreton Bay Ash | Salvation Jane |
| Blue Top | Gracilis (White Mallee) | Muilti Flora Bush | Sarsparilla |
| Blueberries | Grapefruit (Citrus) | Mustard | Silky Oak |
| Borage | Gray Gum | Nectarrines | Small Leaved Tee Tree |
| BroadBean (Vicia faba) | Grevillea | Nodding Thistle | Socialis (Eucalyptus) |
| Cabbage Tree | Gum Topped Bloodwood | Onion Seed | SoyBean (Glycine max) |
| Cadaghi | Honeydew | Oranges (Citrus) | Strawberries |
| Canola | Kamahi | Other | Sugar Gum |
| Cantaloupe | Kanuka (Kunzea ericoides) | Papaya | Sunflower |
| Carrot Seed | Karaka | Passionfruit | Sunflower seed |
| Cashew | Kiwifruit | Peach | Tallowwood |
| Cherries | Lantana | Phasey Bean | Tawari |
| Clover | Lemon (Citrus) | Pink Ash | Tea Tree |
| Cobblers Peg | Lemon Scented Gum | Pink Bloodwood | Walnut |
| Coffee | Lime (Citrus) | Pink Gum | Watermelon (Citrullus lanantus) |
| Coolibah CowPea (Vigna unguiculata) | Lincoln Weed | Plum | White Mahogany |
| Crebra Iron Bark | Lotus Major | Pomolos (Citrus) | White Stringy bark |
| Cucumber | Lupin | Poplar Box | Wildflower |
| Cullens Iron Bark | LycheeCow Pea - Glycine | Pumpkin | Willow |
| Diversifolia (Eucalyptus) | Macadamia | Raintree | Yellow Bloodwood |
| | | Rata | Zucchini |
---
What's Next